And NOW – who can condemn you ?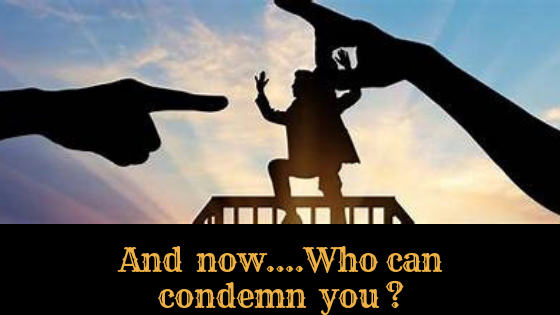 Grace takes you from where you are to where God wants you to be, to experience good days. It is a procedure therefore that the apostle Peter describes, in his epistle, declaring, He who would love life and to see good days, let him refrain his tongue from evil, and his lips from speaking deceit; let him turn away from evil, to do what is good; and let him seek peace and pursue it. [1 Peter 3:10,11] Peace that is set forth here is wholeness in you, as you experience an absence of lack in your life, all by receiving all that God has already made available for you through the Cross of Calvary. And, it is the Holy Spirit who enables you to appropriate and apply it in your life, to see peace that is a divine completeness settling into your inner being, one that sees all disturbing darkness disappear permanently from within you. It happens as you receive the truth of God, precept upon precept, as you continue in your worship, and study of God's word, as you come to church, not neglecting the gathering of saints.
The apostle Paul, describes how the Holy Spirit operates to bring this about, as he says in his letter to the Romans that, The mind that is set on the flesh is death, but the mind that is set on the Spirit is life and peace. [Romans 8:6] A mind that is governed by the Spirit is life and peace, is how a version of it expresses the truth. And, it is how Paul explains his transition and transformation from a position of wretchedness, to blessedness that is the peace of God. The first seven chapters of the book of Romans, is all about the doctrinal truth of being justified not by works, but by faith in Christ, and His finished work on the Cross of Calvary. The eighth chapter begins the practical application of it, in order to make peace your experience. And, dealing with condemnation is an integral part of it.
For the penalty for your sins, your punishment was laid on Him [Isaiah 53:5]. And therefore, now, on this very present day, though it is two thousand years later, there is no condemnation for those who are in Christ Jesus. It is how powerful a truth it is; a truth that still stands in no way diminished by the passage of time. Three condemnations were dealt with on the Cross, by Lord Jesus, when He died so that you and I may live, and also rose again victorious, that we can overwhelmingly conquer, in and through Him, all that the enemy throws against us to bring us down in life.
1. Penalty of sin has been dealt with:
It is why Paul declares, There is therefore now, no condemnation for those who are in Christ Jesus, who walk according to the Spirit and not according to the flesh. [Romans 8:1] Christ, the sinless Son of God, laid down His life on the Cross, where His Blood was shed as the one perfect sacrifice for the sins of the whole world. He died, that you and I may live, and not die in our sins, for the wages of sin is death, and all have sinned and gone astray from the ways of God, the bible very clearly declares.
2. Power of sin has been dealt with :
Having condemned the penalty of sin, by offering Himself as the atoning sinless sacrifice, Christ condemned also the power of sin that can operate through the fleshly nature of a person. For, you and I both, know very well, that though we can rest in the knowledge and understanding, that Christ has taken upon Himself the punishment that we deserved to receive and be condemned, the capacity to sin still lingers in us. But, Christ has dealt with it too, is the truth that Paul goes on to proclaim, saying , For what the law could not do in that it was weak through the sinful flesh, God did by sending His own Son in the likeness of sinful flesh, on account of sin. He condemned sin in the flesh. [Romans 8:3] Sin need no longer be your master, for now greater is He who is in you than he that is in the world.
It is the truth that needs to dawn within you, as Paul himself goes on to explain later about the love of God and the power of grace. This aspect of sin, and what has now changed within you concerning its bondage in you, is the truth that sets you free to walk in liberty. The one who has been redeemed from his financial debts, and set free from the burden of it, also needs to have the power, in order not to get into debt once more. For, very often you will find that a person who comes out of a problem, only to get back into it, will end up in a much worse state than before! It is the sad reality of the fallen nature of man. And, it is the Lord Himself who warns about what can happen when repentance in a person is not long lasting, as He speaks about an evil spirit in a person, which departs from him and then later returns on finding his heart swept clean, but empty, and this time with seven more! [Matthew 12:43-45]
But He arose …!
It is the beauty of the Cross, and the wondrous power that it has unleashed and made available to you, when you are a child of God. Christ was the atonement for all of your sins and the sins of the whole world. And, with the penalty and punishment for sin having been dealt with, death could not hold Him down anymore. On the third day, the Lord arose, conquering death and the grave, and is seated at the right hand of the Father, alive forevermore, holding in His hands the keys of death and Hades. And, He is here in our midst and with you now, as the Risen and Exalted Savior. The power of death comes from sin; and the power of sin is being continually dealt with even now, to keep you free of condemnation. When sin increases grace overwhelmingly increases. And now, you can say 'no' to sin, and do not have to bow down to its' deceptive and vicious bondage any more. You have an option; and it is the power of grace. It is because Christ has dealt with the power of sin on the Cross. And, it flows in your life, not when you try in your own self effort, but when you put your trust in the Lord, who has done it all for you on Calvary. The power of death in your life now stands condemned. Christ has risen from the dead!
3. Power of death has been dealt with :
This was the third condemnation that Christ dealt with on the Cross, so that, now, and in Christ Jesus, there is no condemnation in you. It is a step by step, precept by precept, proclamation of the spiritual truth of God that comes through the words of Paul in this chapter of the book of Romans. And, it is only as the eyes of your understanding are opened to comprehend and realize the truth of all that has been dealt with on the Cross that you will be able to walk in the truth of it in your life today. He whom the Son sets free is free indeed; and He is the Living Savior who says to you today, after having done it all for you on the Cross, 'Know the truth, and the truth will set you free'. For, it is in Him and through Him that you can overcome the problems that arise in and around you, in your circumstances and reign in life, as God has blessed you to be. And, He does not promise you a problem free life; rather, He encourages you with the truth with which you can overcome your problem. 'Be of good cheer; for I have overcome the world'. [John 16:33]
'We shall overcome' are the words of an old familiar song. But 'We shall overcome someday', does not have to be your song, for 'today' is the day of salvation! And therefore, overcoming the problem that may be troubling you is a very present reality even now in your life. And there is another aspect to condemnation that the apostle Paul addresses in the chapter that begins with the declaration of 'no condemnation'. It serves as the answer for something that can crop up in your life, if not now, at some time or the other. But the word of God leaves no hole unplugged!
Who is he who condemns ?
It is a very powerful question that Paul now puts forward, and also proceeds to answer, in even more powerful terms, one that cannot be challenged. Who is he who condemns? It is Christ who died, and furthermore is also risen; who is even at the right hand of God, who also makes intercession for us. [Romans 8:34] Christ died; Christ arose; and now Christ intercedes for you. Therefore, when you are in Him, and He is in you, there is no condemnation in you. For, if you take Christ out of the picture, any one and every one can condemn you at some point or the other, and for some reason or the other. And where there is condemnation there can never be a true and permanent peace. What the world offers, in the name of peace, whatever it may be, can never endure, but is always transient and temporary. A drink that you imbibe, a smoke that you inhale, a movie in which you forget yourself temporarily, or even the smart phone that you hold in your hand, offering plenty of distractions at the touch of a button, are all, to name a few, what the people of the world turn to in order to find peace. And, the sad part of it is that the deceptive sense of peace that comes from it all, is a skin deep and superficial illusion that never lasts.
But Christ is your permanent Healer; He gives you peace that brings a settlement in your innermost being, that goes on to reflect outwardly, and is a permanent solution, in which condemnation has no place. For as long as there is condemnation in you, peace will be far away, and can never enter in. Learning to deal with condemnation, therefore, is of supreme importance, for one day or the other you will find it coming against you, in some form or the other. And a right understanding of how Christ approaches a scenario of condemnation offers insight and instruction, timeless and profound. He never condemns you; but He also never gives you the permission to sin, or do something that you know is wrong, and should not be doing. It can be seen in His words to the adulterous woman who was brought to Him, by the scribes and the Pharisees just to test Him, so that they could accuse the One who was full of grace and truth, of not keeping the law, if He did not agree with her being stoned. For, it was the punishment that the law demanded for adultery. And, it became the beautiful place where law and grace met. [John 8:1-12]
'Neither do I condemn you'. [vs 11]They were the words of grace from the One person who was sinless. He alone had the right to do, what He had asked of the men who had brought her to Him. The Lord did not condemn her; but it was also not the end of His word to her. For, He then said to her, what completes the work of grace even in you and I today. 'Go and sin no more'. [vs 11] It is this that the people of the world, and those who are saved, but then abuse the saving grace of God in their lives, tend to conveniently ignore. It is becoming increasingly common, especially in these times when the presence of absolute truth that determines what is right and wrong, is being questioned or ignored in all walks of life. And, it is only because man wants to satisfy his selfish and carnal lusts with absolutely no accountability.
Grace gives power to say 'no' to sin :
Grace is not the license to sin, or carry on sinning in your life. It would be getting hold of the wrong end of the stick, and at your own peril. Christ has dealt with all the ways in which condemnation can come against you, to rob you of an experience of peace. And now, in Christ there is no condemnation in you. But, you also now, need the power to stay out of condemnation, and this is what God's gracious word gives to you. For, the commandment of God is also His enabling power that empowers you. Thus, when He says, 'Go, and sin no more', to you, the word itself has the power to enable you to do it, when you receive it with faith and right understanding.
God's word – the seed :
Whatever your need may be, it is always a seed that is the word of God that He gives you. And when it is planted in the soil of your heart, nurtured and watered by faithful prayer and meditating upon it continually, it will in time sprout and bring forth fruit in abundance. It is the principle in which God operates, in every area of life to satisfy you with overflowing abundance. It is also not about speaking words of magic, an 'open sesame' that sees doors magically open. Being in a relationship of faith and trust with the God, who speaks His word to you, is how it all comes to pass. And it is why, when the seven sons of Sceva, tried to drive out a demon from a person, they miserably failed. Even the demon knew that it was when a person had a living relationship with Christ that it had to bow down to the Name of Jesus and leave! [Acts 19:11-20]
Proof of trusting God is having rest within you:
Naturally speaking, one finds that even a small niggling problem can disturb the peace and rest of a person to give him sleepless nights. But the psalmist's words display his trust in God, in what he speaks out when he is surrounded by enemies, will both lie down in peace and sleep; for you alone O Lord make me dwell in safety. [Psalm 4:8] Without trusting in God, 'Go and sin no more', would be revolutionary words; but in trying to practice it without the empowering of God, a person would miserably fail, only to revert back to the position of a wretched man, with no peace in him whatever.
Christianity is all about trusting in God. And when you sin as a Christian, your conscience will always point it out. It is important therefore to stay sensitive to the voice of God in you. For, grace is never the license to sin. And, when you go to God in repentance His grace forgives, but sin always carries consequences, if you choose to yield to it. For, God is not mocked, and a man reaps what he sows. Therefore, instead of getting caught in the grip of sin and then coming out, choosing to stay out of it, by the power of God's grace, would always be the better option.
And, why do people sin?
It is because their focus is not upon God, and hence they do not hear His word to them. Instead they end up listening to the counsel of the ungodly. It is what the psalmist warns against in the word of God. [Psalm 1] For, the ungodly are not those who are stupid in their intellect. It is just that they have chosen to keep God out of their lives, and ultimately end up paying a heavy price for it. For, it is only God who offers to you a permanent solution. Talk shows and worldly counselors abound these days, offering to solve your problems, but a true peaceful solution can only come from God. And, if you voice your conviction, you may be called a religious bigot, but there are thousands of testimonies of people whose lives have been ruined by sin, but put back together by the grace of God! When God's word is to go and sin no more, He is promising to you that even if you have been in a problem, He is bringing you out of it, to put an end to it, and giving you the power to move forward in the right direction. That is our Living Savior!
For, you can never think that you can manage and control a problem that is sinful, or tolerate sin. But God gives you the power to say 'no' to sin, when you put your trust in Him, who has solved the problem, dealt with the power of sin on the Cross, and is now your problem solver. Blessed is the man who trusts in the Lord, God's word declares. And, what is blessing? It is the power to make you successful in the sight of God. Sin on the other hand stems from unbelief that does not trust God. It is why you need to put your trust in God in order to find fulfillment and good success in your life. And it is why, 'Go and sin no more' becomes so important. But being human, when you and I fail even now and commit a sin, we have the Lord Jesus, interceding on our behalf, that we may not be condemned. The ground rules for walking in the path of 'no condemnation', through Christ who strengthens you, are expressed very simply by the apostle Paul, in his letter to the Corinthians.
The right that a Christian enjoys :
All things are lawful for me, but not all things are helpful; all things are lawful for me, but not all things are edifying. [1 Corinthians 10:23] It has been said that the only right that a Christian has, is to give up his right, and all because, it is then that his life will be made right! An addiction is something that you cannot stay away from without suffering severe distress, and not necessarily restricted to substance abuse. It is why you need to ask God for discernment in what you see, read, etc, and also strength to stay away from what is not profitable or edifying. The authority to keep the devil out lies with you, as you confess the word of God, and stay in a place of no condemnation. For, once he enters in, he has no other agenda but to steal, kill or destroy. Doubts can certainly arise within you, but God's word shows you how thoughts of condemnation can be overcome.
And now, who can condemn you?
How does it all practically work out in your day to day life, in your thoughts and actions ? And now who can condemn, is the question that Paul puts forward with confidence,
1. For, if your heart condemns you :
God is greater than your heart, when it is your own heart that is condemning you. For, if our heart condemns us, God is greater than our heart, and knows all things. [1 John 3:20] You may feel condemnation in you sometimes, when thoughts of guilt arise owing to what you may have done in the past, some wrong doing knowingly or unknowingly. For, no one has lived a sinless life, but Christ. And, it is upon Him that you need to shift your focus, in such a scenario; for it is by believing in Him, and what He has accomplished on the Cross as the remission of all your sins, that you were saved. And the word 'believing' is one that is present continuous, and needs to be so always. It does not end with your initial encounter with the Savior and Redeemer that led to your salvation experience. For, it is by continuing to trust in the finished work of the Cross, that you remain free.
And how your trust is reflected, is in the word that you confess. It is why the word says, 'Let the weak say, I am strong'. The tongue has the power of life and death. And it is by confessing the forgiveness of sins that is yours through the Cross, where all your transgressions have been removed as far as the east is from the west, that you overcome the pricking pain that may come in you as are filled with a sense of regret concerning things that you could have avoided and kept yourself from doing, but which cannot be changed now. And the apostle Paul shows the way in dealing with your irretrievable past that in faith you can trust and believe has been carried away on the Cross, washed by the Blood of the sinless Lamb, God's precious Son. Although I was formerly a blasphemer, a persecutor and an insolent man, but I received mercy because I did it ignorantly in unbelief, And the grace of our Lord was exceedingly abundant, with faith and love which are in Christ Jesus.
This is a faithful saying and worthy of all acceptance that Christ Jesus came into the world to save sinners, of which I am chief. However, for this reason I obtained mercy, that in me first Jesus Christ might show all long suffering, as a pattern to those who are going to believe on Him for everlasting life. [1 Timothy 1:13-16] It is the word that can liberate you and take you from regret to rest, as you stop trusting in your feelings that can change as shifting shadows, and come to a point of believing in the unchanging truth of the word of God. Paul does not deny his past, when he was a persecutor of Christians, but finds his rest in the truth that is higher in order to walk free from it, and fulfill his call and purposes of God in Christ Jesus, to be able to say at the end of it all, 'I have fought the good fight; I have finished the race, and now there is laid up for me a crown of righteousness'. It is the assurance and the peace that can guard even your heart, as forgetting what lies behind, you run towards your upward call in Christ Jesus. And, it is how you can stay free from condemnation that arises internally within you knowing that now there is no condemnation in you in Christ Jesus. But, there is also an external enemy though who can trouble you with his deceitful accusations.
Overcoming the devil's condemning lie :
2. When the evil one condemns you :
It is his role as the accuser of the brethren, though he is now a defeated foe, who has been hurled down from heaven, doomed and condemned forever by the Lord's triumph on the Cross. Through it, and only through it, you and I stand cleansed of all our unrighteousness, in the face of all the devil's accusations. And through the words of the prophet Zachariah, God paints a vivid and beautiful picture of it that equally applies to you and I now, as His Kingdom of priests. Joshua, the high priest stands initially clothed in garments stained by sin, when the devil accuses and condemns him in the sight of God. And it is then, that in an allegorical picture of the victorious Cross, God commands his filthy garments to be removed, to be clothed instead with a royal robe, the robe of righteousness, and a rich turban, the helmet of salvation. [Zechariah 3:1–5]It typifies what has happened in your life, through the Cross, the truth that also needs to be your confession, in order to overcome the lie of the evil one, which he brings forth to condemn you and rob you of your peace.
And they overcame him by the Blood of the Lamb and the word of their testimony. [Revelation 12:11] It is with the confession of your mouth, about what Christ has already accomplished for the forgiveness of your sins on the Cross, that you overcome the lying accusations of the enemy. For, you can end up in the torment of condemnation, if you are too modest to talk back to the devil, and confront him with the truth of Calvary, where his head was crushed by the Saviour, to set you free from the bondage of sin. He will then continue to speak his lies to deceive you, and as a result draw you deeper and deeper into the pit of darkness and despair, and the wretchedness of being in sin's grip of condemnation. But today, God has spoken into your heart to affirm yet again that, Now, there is no condemnation for you in Christ Jesus. For ,
a. Christ has died for your sins, paying the penalty for it on the Cross.
b. He has overcome the power of sin in your flesh, by overcoming it to arise from the dead, for your justification.
c. And today, Christ is seated at the Father's right hand, interceding on your behalf, and also empowering you that you may not yield to the power of sin, but reign in life, through Him, who has dealt with it all.
Christ the sinless One, the One and Only One who could condemn you, Died for you, Rose again for you, And, is now, interceding for you. The One who can condemn you, is interceding for you! And therefore, now, who can condemn you? And down the same passage, Paul goes on to declare the love of God that is inseparable, one that causes you to overwhelmingly conquer, whatever the situation may be, however strong the attack of the enemy may be. [Romans 8:35-39] What a wonderful Friend and Savior you have, who knows your every weakness, and who has accomplished it all for you on Calvary's Cross. What a privilege it is to worship Him this day, giving thanks in humble adoration, to be filled with His strength upon strength, grace upon grace to walk in ways ordained by God, for His glory.
In the Name of Christ Jesus, Amen.