Experiencing goodness – the GOD experience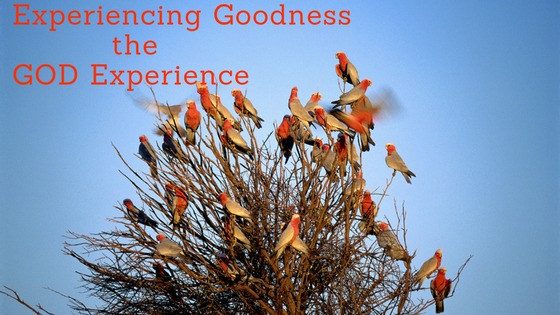 Grace takes you from where you are to, to a place where God wants you to be, to rest in His goodness and prosperity. It is His promise to you, and may it become your experience this day. His soul shall abide in prosperity, and his descendants will inherit the land. [Psalms 25:13]
Together with His promise that can never fail, the Lord in His word also gives you the procedure, to make it your personal experience, and abide in His goodness. He also empowers you, gives you the strength to apply what He prescribes in your life, that you may operate from a position of rest, to see the manifestation of His promise to you. For, when He gives you a vision, God also gives provision to execute it. And, His promise of goodness also comes with His enlightenment and empowerment. It all begins, with having a right understanding, of the nature of the goodness that the Bible talks about.
What is 'good' ?
'Good' is a word that is used both casually and seriously in various context and aspects of life. But, to know what God means when He talks about goodness, it is the scriptural understanding that you need. For, the world and its desires are passing away; but the word of God is the eternal truth. And, it is the knowledge and understanding of the scriptural point of view of goodness, which will lead you to truly experience it. You serve a good God. And, let Him be your reference point for what is good.
For, He is good, and His mercy endures forever. He is the ultimate 'good'. And therefore, goodness is godliness. This is the truth that God desires you to rest in; the truth that, in order to experience goodness, you need to experience God. For without Him in your life, in His rightful place, even the good things in your life, will become meaningless.
When all is vanity :
He was not a penniless man, who was frustrated with life because of it. He had all that money can buy. In his own words, Solomon describes it thus, Whatever my eyes desired, I did not keep from them. I did not withhold my heart from any pleasure. [Ecclesiastes 2:10] And he was not just a simple man, with nothing to do. He was an architect, a song writer, a builder, and the ruler of the land. But, he goes on to say, Then I looked on all the works that my hands had done, and on all the labor in which I had toiled', Only to conclude, 'And indeed all was vanity, and a grasping for the wind'. [Ecclesiastes 2:11]
Sad and in despair are his words, for as life progressed, God was no longer where He should be, in Solomon's life. And, since his relationship with God was not right, even good things appeared meaningless to him. For, it is when you taste and see that you have a good God, or in other words, experience God in your life, that you will experience real goodness in your life. And, it practically works out in your life, as you surrender yourself to doing God's will.
Goodness in doing God's will :
I urge you brothers and sisters, by the mercies of God that you present your bodies a living sacrifice, holy, and pleasing to God, which is your true and proper worship. Do not be conformed to the pattern of the world, but be transformed by the renewing of your mind. Then you will be able to test and approve what the will of God is, His good, pleasing, and perfect will. [Romans 12:1,2]
Experiencing goodness happens as you do the will of God, for in it, there is goodness, perfection and pleasure. It is why the psalmist is able to confidently say, I delight to do your will O Lord, and your law is within my heart. [Psalms 40:8] It can be your proclamation too. You may face challenges in doing His will, but the provision of God will always be there, enabling you to rise above it all, to reign in life through Lord Jesus Christ.
GOD – the source of all good :
He remains the source of all that is good; and He Himself, is the ultimate 'good'. Goodness therefore, can never be detached from God. And, He is a good God, who has nothing bad to give you ! What He gives you therefore, is always good, and only that which is good. And to experience goodness in your life, you need God, the 'God experience'. It is then that your life will become meaningful. For, He has a marvelous plan and purpose for your life; one that He works out in you, as you surrender willingly to His good and perfect will. His mercies are new every morning, and great is His faithfulness towards you, that brings it to pass. But, you have a role to play.
What is your responsibility ?
Everything in Christian life is about sowing, seedtime and harvest. Nothing happens automatically. Believing is the key that unlocks, but you have a responsibility. God has a gift for you; and, receiving it rightly, based on what He has already done on Calvary, is your responsibility. And the key to receiving good gifts from God, is asking ! The Lord has made it all very simple; the word of God is not complicated. It is simple, but profound.
Simply ask ! :
Ask, and it will be given to you; seek and you will find; knock and it will be opened unto you. For everyone who asks receives, he who seeks finds, and to him who knocks, it will be opened. [Matthew 7:7,8] And, the Savior goes on to explain, why it is so, or what man is there, who if his son asks him for bread, will give him a stone, or if he asks for a fish will give him a serpent ? And you then being evil know how to give good gifts to your children, how much more will your Father in heaven, give good things, to those who ask Him ! [Matthew 7:9-11]
Good and advantageous ! :
He will give what is good and advantageous to you, is how a translation expresses it. And, why is it so ? It is good and also advantageous, for the All Knowing God is going ahead of you. He is the Breaker, who removes hindrances that lie in your path ahead. So, if you are going through painful things right now, even in the midst of it, as you experience the good God, and ask of Him, He can give goodness in your life. For, the Father who is the ultimate 'good', has only good gifts to give you, and nothing that is bad or evil.
In the ninetieth psalm, written by Moses, it is what he asks of the Lord; that God should grant them goodness for as many years as they had seen affliction. And, the Israelites who had been in bondage for four hundred and fifty years, experienced deliverance and rest and ultimately entered and possessed the land of Canaan; it was a good land, land of brooks of water, of fountains and springs, that flowed out of valleys and hills; a land where they would lack nothing. They received the goodness of the Lord, as Moses had asked, to be satisfied by God's mercy. Yet you do not have for you do not ask. You ask and do not receive, for you ask amiss, that you may spend it on your pleasures. [James 4:2,3]
The words of the apostle affirms, how asking is so important, and also the motive behind it. It should not be out of greed, but that you may be generous. You will be enriched in every way that you may be generous in every occasion, which results in thanksgiving through us unto God. [2 Corinthians 9:11] It is always for the glory of God, that He may be glorified in and through it all.
ASK – Asking, Seeking, Knocking :
The word ASK also becomes the acronym of asking, seeking and knocking, as it wonderfully captures the scriptural understanding of all that it involves.
1. Ask, and it will be given to you : [Matthew 7:7]
It is the word of God that can never lie. So, when you ask, you also need to get prepared to receive. Some people though, are reluctant to ask as a means of self preservation. 'Why ask and then maybe get disappointed, if I do not receive it', is their approach. And, some think that they can ask God only for something small and limited; that by doing so they are being very humble !
But, the Lord takes pleasure in giving to you; it pleases God to give you all His kingdom and authority, unlike some kings in the Old Testament who said that they would give a half of their kingdom, when a special person came to them. It was because, if they gave their entire kingdom, they would no longer be the king ! But, our God is King forever, Creator and Possessor of all. Do not limit therefore, the magnificence of His power and abundance. Nothing is too much for the unlimited God !
Why is asking important ?
'He is the All Knowing God who knows it all. He knows my needs, even if I do not ask Him for it', maybe the thought in your mind. But on the other hand, nothing stops God from giving to you, so what is stopping you from asking of Him ? For, nothing stops God from giving to you, except you not asking of Him ! The Lord asked the man lying paralyzed for thirty eight years by the pool at Bethesda, 'Do you want to be made well ?'. And through the man's long, convoluted reply, the Lord knew that he was asking to be healed. 'Get up, pick up your mat walk', the Lord then commanded him, and the man obeyed and received his miraculous healing.
Some people though, can become very comfortable in their problem; it can become their comfort zone. And, every morning as they wake up to lament over their tale of woe, it is then that they feel rejuvenated ! But, it is not the life that God wants you to enjoy here on earth, as His child. Faith is the positive response to God's word to you. And, asking is the positive response to receiving from God. You may have gone through disappointment at times. But still, may your prayers to God be always grateful, and not demanding. For, you are not asking a person who is unwilling to give.
He is the God who wants to give to you, all that He has already prepared for you. So, may your prayers and petitions to Him be positive and grateful, as you declare His sovereignty and love, as the God who will certainly give you, exceedingly and abundantly more than you ever asked or imagined ! Asking is a sign of trusting God, to then rest in God, knowing that you will receive. And in short, you need to experience God, and the victory that Christ has accomplished on the Cross of Calvary. It is what the prophets of old longed to see. But, you and I today are privileged to behold and experience it in our lives, to live in the blessing of the new covenant, the greater glory.
Ask therefore, knowing that it is a positive response to a giving God. And if you are waiting for a long time, for what you have already asked, be prepared to receive; He is the God, who has made all things beautiful in His time. Asking, also involves seeking.
2. Seeking His Kingdom, first :
Seek first, His kingdom and His righteousness, and all these things shall be added unto you. [Matthew 6:33] The key word in the verse above is 'first'. To experience goodness, you need to experience God. And, if you desire to see good days, He needs to come first in your life, not just when it is convenient. Even the principle of tithing, serves to demonstrate the truth, that the first and the best is God's. And godly blessings come to you as you apply it in your life, not only in the realm of finance, but in every area of your life.
Seeking and not lacking :
The young lions lack and suffer hunger; but those who seek the Lord shall not lack any good thing. [Psalms 34:10] When you seek after things, you may or may not receive them. But when you seek God, most assuredly, you will not experience lack of any good thing in your life. Therefore, goodness and God cannot be dissected. For, it is in seeking and experiencing God that good things become part and parcel of your life. May God always take first place in your life, and in the challenges that you face. Without waiting for it to become a storm, even when it is a small ripple, take it to God, instead of trying to manage it yourself and failing, and then going to God as a last resort. He will never abandon or forsake you, but it is to your advantage, when you go to Him first.
Whatever time you wake up, learn to turn to Him first in prayer, giving Him the place He deserves, and persevering in trusting Him all through the day. You can gauge your level of trust, when you see what comes first in your thoughts, and in your mind, as you ask for something in prayer. Be it a house, or a vehicle, is your expectation and estimation based on your resources, or God's ? May God always come first, and His thoughts become yours. Even if it has not been so in your life until now, you can turn around, to make a fresh start in the right direction from now on. It is never too late with God ! And, it is in seeking Him first, His kingdom and righteousness, you will see that every good thing that you need in life comes to you.
3. Asking also involves knocking :
It is the effort that you need to take to follow His leading and guiding in your life, the sowing and watering that you can confidently do, knowing that the increase will surely come from God. Isaac, was instructed by God, not to go to Egypt, but to stay and sow in the land where he dwelt, though the famine was severe. He did so, as he placed God's thoughts first in his life, to sow in the land where he lived. He made the effort, and God gave him the increase, a hundredfold, though it was a time of famine.
Sowing & burying – the difference :
When anything is buried, it may even be your God given talent, as the wicked servant did in the Lord's parable, you do not expect it to come back, or any increase from God to come out of it. The Lord's words to the one who buried his talent were strongly condemning. Our loved ones, who go to be with the Lord, are not buried but sown, to be raised one day from mortality to immortality.
When you take the effort to sow something, you expect it to come back, in greater glory, with a God given increase. Your effort in the Lord will never be in vain. From Him comes the increase. And, the one who sows little reaps little, and the one who sows much reaps much. Therefore, in the question of giving to God, it all boils down to, 'How much do you want to reap ?'. And sowing, is not restricted to just your finances, but it encompasses everything that you do unto the Lord. And, this is a question that you need to ask yourself .
Where is the majority of your focus ?
Yes, the Lord will give what is good; and our land will yield its increase. [Psalms 85:12] It is the promise of God. But, where is most of your focus during the course of a day in your life ? It will reveal to you who is God in your life. Blessed are those who dwell in your house, says the psalmist. It is not about ignoring one's duties to spend all your time in the confines of the church building. Even in your work, wherever it may be, when you do it unto the Lord, so that He may be glorified, and not unto men, it is worship. And, God honors those who honor Him; increase will surely come from His hand. Therefore, putting it all together, the picture emerges with clarity ,
Ask – receive
Seek – you will lack no good thing
Knock – you will see the open door !
The Open Door :
'I know your works. See, I have set before you an open door, and no one can shut it'. [Revelation 3:8] It is the Risen and Exalted Lord's promise to you. 'See, the open door', He says to you. And, when He Himself says that no one can shut it, definitely no one can ! All you need to do is to walk into it, and enter into what He has prepared for you.
The Holy Spirit – the good gift :
If you then, being evil, know how to give good gift s to your children, how much more will your Heavenly Father give the Holy Spirit, to those who ask Him ! [Luke 11:13] It is the added dimension of the truth that the gospel of Luke gives; one that completes the picture. To experience goodness in your life, you need to experience God; and as you ask Him for good things, Luke says, He gives to you the best; He gives Himself for you, the ultimate 'good'.
God so loved the world, that He gave His only Begotten Son, and through Him, everything that is good comes to you. Christ gave Himself on the Cross, to die and rise again, defeating death and the grave. He ascended into heaven, and on the fiftieth day, on the Day of Pentecost, he Holy Spirit was poured out on all flesh, to be with you now, forever. The best that God can give you is not money. He gave Himself, and He is now living in you. You will therefore, most assuredly have good days, all that is best and good and advantageous for you.
The glorious supernatural advantage :
Likewise, the Spirit also helps in our weaknesses; the Spirit Himself intercedes for us. [Romans 8:26] The Holy Spirit lives in you; He is your strength in your weakness. When you think you do not have the right connections to rise up in life, He is your best connection, who makes all other connections possible. He can turn the heart, the direction of any man in the way He chooses to, in order to bring goodness in your life.
And, when you do not know how and what to pray, regarding your situation, He Himself intercedes according to the will of God, and intervenes to take up your cause. Since He is pleading your case, you can rest assured that God will cause all things to work together for your good. [Romans 8:28]
Right now, your name is getting mentioned in the courts of heaven, for Lord Jesus, your heavenly Advocate is seated at God's right hand, pleading your cause. Your soul therefore, can find its rest in the goodness of God. Let the truth set you free. The greatest goodness, God Himself, Christ is in you. He is the hope of glory, the revelation of His nature and power in you.
Ask, and prepare yourself to receive the good gift, the source of all goodness, that you may see the goodness of the Lord, in the land of the living; that your soul may abide in prosperity, and that your children may inherit the land.
In the Name of Christ Jesus Amen.