In a dark uncertain time – the Sun of Righteousness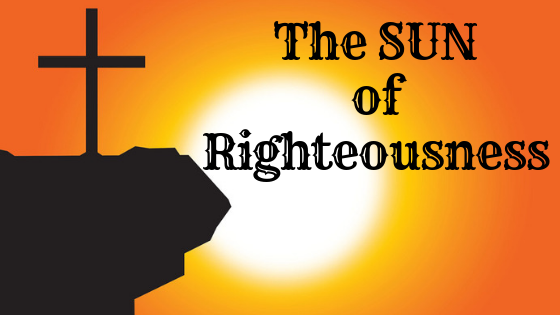 Your times are in God's hand. And therefore, an understanding of the truth concerning it is vital when it comes to navigating, the times and seasons that you go through in life. It is a right understanding that gives you the power to withstand life's ups and downs. It could involve an exercise of patience sometimes, even as the farmer waits after sowing the seed. And the crop that grows, the harvest it brings is determined, by the nature of the seed, the soil, and the rain it receives. It is the very practical picture that the apostle James paints in order to describe the patience that needs to be in you, as you await the fulfillment of your promise from God. Therefore, be patient brethren, until the coming of the Lord, he says, to add then the picture of the farmer, saying, See, how the farmer waits for the precious fruit of the earth, waiting patiently for it until it receives the former and latter rain. [James 5:7]
Patience that the scripture exhorts you to display is the patience of Christ Himself, as you grow more and more in the knowledge of Him, to bring forth patience as the fruit of the Spirit in you. It is an inner transformation, a change in your character that is always very precious in God's sight. And, He leads you in the path to it by His counsel and instruction that comes to you through His word, as He keeps His eye upon you to lead you. It is in His wisdom and strength that you are empowered with godly patience; one that is always connected to His purposes for you. And it is in the knowledge of it that you can be restrained from rushing ahead, and wait with patience, even when it is seemingly delayed. Though it tarries, wait for it, the prophet Habakkuk says. [Habakkuk 2:2,3] And, it is where being patient in the times and seasons when nothing seems to be happening becomes very crucial, and waiting with a godly expectation instead of frustration is what is required of you. For, the God who has promised it to you is faithful.
The night season :
It is a right understanding of seasons in life that gives you the power to withstand what can be a dark time when everything seems uncertain and unclear. The psalmist explains how he was able to go through a night season in his life, and often, even in your life, you will find that God is closer to you when you feel lost in your darkened circumstances. I will bless the Lord who has given me counsel. My heart also instructs me in the night seasons. [Psalm 16:7] They are the grateful words of David; and it lays down the road map to every child of God who invariably at some point or the other goes through a season that is perplexing in its darkness. It is when you do not know how things are going to turn out in your life.
In the life of the apostle Paul, it was the ultimate uncertainty that lay ahead, as he wrote from his prison cell to the Philippians. He did not know whether he was going to be released or put to death, but he had the blessed assurance within him to be able to say, 'For me to live is Christ, and to die is gain'! [Philippians 1:21] And it is in such a time of uncertain darkness that he is also able to say this to you and I; 'Rejoice, and again I say rejoice'! [Philippians 4:4] It shows so clearly that God can teach you and keep you strong, even in a night season, when you are going through the darkness of uncertainty.
The dark ages :
Between the time of the Old Testament and the New Testament, there was a period of around four hundred years, a dark age, when God was seemingly silent. Life can be dark, when you are unable to receive God's word, and His counsel. It is what happened in the life of Job, when his friends giving ungodly counsel, pulling him deeper into darkness. But the one voice that he longed to hear, the voice of God was silent. It was a night season in his life. And it can happen in any person's life, for it is a fallen world. But, a dark age, or the night season, will not be permanent. It is the encouraging truth that comes to you from God, as you study the life of Job. It all came to an end even as Job received the understanding of the true nature of God, to know that God can do all things, and His purposes can never be thwarted. Darkness gave way to light in Job's life as he was blessed by God to receive doubly, all that he had lost in his life. And his latter days were much better than his former, is what the bible records.
And, if you are passing through a night season right now, it is the promise of God that comes to you. It is the instruction and counsel that you need to receive into your heart, to lay aside all vexation and frustration that may be building up within you. For, your latter days will be more brilliant and glorious, as the Lord recompenses, as only He can. Your night season will not be permanent. And, sometimes when it seems unending to you, take heart to know that He is with you, counseling you and teaching you to bring about a marvelous change within you in your inner being. It is when your mind is renewed by His word to bring about a transformation within you that you will be in a position to handle rightly all that God has prepared for you. He is the God of Abraham, Isaac and Jacob, the patriarchs. And in the life of Jacob can be seen a dark night, one in which God stepped in. And, it teaches invaluable and unchanging truth that you can hold on to even now, in your times of uncertainty.
1. Darkness – of an uncertain future :
It is God's mercy through which we are not consumed. For, often even as Jacob did, you and I can try to be the master of our own fate, and depend on our own effort to work out our God given destiny. Jacob, aided by his mother Rebekah, usurped his brother's blessing from his aged father, Isaac. Hence, it was not a good exit for him from his family home; and he was literally fleeing for his own life, when he lay down to sleep in a time of literal darkness, with a stone for a pillow. And, it was then that the promise of the God, who is rich in mercy and love, came to him, in a dream. [Genesis 28:12-15] 'I am the Lord God of Abraham, and the God of Isaac, and the land upon which you lie I will give to you and your descendants. Also your descendants shall be as the dust of the earth; you shall spread abroad to the west and the east; to the north and the south, and in you, and in your seed, all the families of the earth shall be blessed.Behold. I will keep you and be with you, wherever you go, and bring you back to this land, for I will not leave you until I have done whatever I have spoken to you'. And, it was on beholding the vision of the awesome God in that place, that Jacob then went on to call it Bethel.
But though the promise had come, the situation was still dark and uncertain in the life of Jacob, and in fact it was another twenty years, before the promise was fulfilled in his life. He became wealthy, but there was no peace in him. Sleep deserted him, as he had to work for a very cunning master, who also happened to be his father in law! Darkness lingered in his life for years, and sometimes it can happen in the lives of people. It is then that you need to have an understanding of the truth concerning seed time and harvest. It takes time sometimes for a person to be changed sufficiently within him, in order to handle the blessings that God has in store for him. And more importantly, though it took time, God was still faithful to His promises in the life of Jacob.
'Unless you bless me …' :
Finally after years of trouble and turmoil within him, Jacob came to the place of realization, that it is the blessing of the Lord that makes a person rich, with no sorrow added to it. Thus, it led to him wrestling with the Angel of God, all through the darkness of a night, to obtain the blessing of God.[Genesis 35:22– 32] But, even this wrestling act of his was very typical of his nature, that was essentially selfish and opportunistic, one that will go to any length to get what it wants. It was in this nature of his that God wanted to bring about a change. For, the truth was that, he was blessed by God, even when he was in his mother's womb. Jacob's initial nature can be seen in people even today. And, people who trust in their own strength and self effort can never grow in life. They will sadly remain dwarfed and stunted, like a shrub planted in the desert, when it comes to the vision and much higher purpose that God has for them. It is they who put their trust in God, to become righteous in Christ, who will grow like the palm tree, and flourish like the cedar in Lebanon. And, for it to happen within you, all you need to do is to hold on to God, to trust in Him alone, instead of trying to do it all in your own strength.
It is something that does not come easily, and may take time. For Jacob it was a twenty year process. The Israelites wandered in the wilderness journey for forty years, to learn the one lesson from God, that man does not live by bread alone, but by every word that came to them from God. Noah preached the same message for 120 years, calling the people to repent, for a flood was coming to destroy them. And, even at the end of the Old Testament, the minor prophets, as they are referred to, were preaching the same message of repentance. Later, after four hundred years of silence, the New Testament begins; yet again with the same clarion call, 'Repent; for the kingdom of God is near'. For, very often it takes a long time for people to change, as it was with Jacob. But God remained merciful to him, in every season of his life, even when he needed to be changed. And, today He is with you too, transforming you from glory to glory to reflect the image of His Beloved Son, who has given Himself for you on the Cross!
Isaac's nature though was very different. For, when people came to fight with him over the well that he had opened up to find water, he just moved away to another place. And, it happened more than once; but Isaac knew and abided by the truth of God, that when you have the promise of God, you do not need to quarrel over it. For, His promise can never fail. In the gospel of Mark, that is swift and short, the one word that repeatedly recurs is 'immediately'! Yes, what the Lord has promised to you can happen swiftly and immediately. But, it does not mean that when time elapses, you need to doubt His promises to you. For, it will surely come, as the prophet Habakkuk points out. It will come at the appointed time. Your times are in His hands! And what safer place can there ever be? Moving on to study the life of Abraham, another aspect of a time of darkness can be seen very vividly.
2. Darkness – with a spiritual implication :
In a time of physical darkness, during which God made a supernatural covenant with Abraham, He spoke to him concerning the darkness of bondage and slavery that was going to come upon the lives of His chosen people, and also the promise of deliverance with great possessions, to bring them back to Canaan, the land promised to Abraham. Now when the sun was going down, a deep sleep came upon Abram; and a horror and a great darkness fell upon him. Then God said to Abram, know certainly that your descendants will be strangers in a land that is not theirs, and will serve them, and they will afflict them for four hundred years. And also, the nation whom they serve I will judge; and afterward they shall come out with great possessions. [Genesis 15:13,14]
It was a revelation of upcoming darkness, but also one that would not be permanent. It was the promise from God that came even before the dark problem engulfed the lives of Abraham's descendants. [Genesis 15:18,21] And, it was in a prophetic understanding of it that much later, even though it had not turned into a place of darkness and bondage as yet, Joseph was able to give instructions to his sons, concerning his burial; that his bones were to be taken to the land of Canaan, the land that God had given to Abraham in a covenant. Joseph knew that deliverance from bondage lay ahead. Even in your life if it is a time of darkness, it speaks today to declare that the problem is not going to be permanent. There is light ahead. And, all you need to do until then is to hold on the promise of God that came to you even before you encountered the problem that now feels like darkness that is thick and dark, with no semblance of light. Hold on to what the covenant keeping God has promised to you; that you will see the goodness of the Lord in the land of the living.
It is also why you need to stay away from making wrong confessions that negate the possibility of any change taking place in this life. For, there is only one life, and after that is the judgment, declares the word of God. Therefore, change that sees all darkness depart, and light of the goodness of God enter in, has to take place in the here and now. And bringing it down to apply it in terms of your family, the positive confession that you profess as you enter into the marriage covenant needs to be sustained and held on to whatever the circumstance may be, good times or bad. And, it is that confession of faith that will see you overcome and progress to build the home that God has laid out in His word.
3. Darkness – a time of suffering , for righteousness sake :
Forewarned is forearmed, the saying goes. And, 'In the world you will have tribulation; but be of good cheer, for I have overcome the world'. [John 17:33] is the Lord's promise that comes to you, even before any trouble comes your way, to show you the path to overcoming it, in Him and through Him. For, when you are a child of God, and hence, not conformed to the pattern of the world, invariably at some time or the other you may face unjust accusations, and a time of trouble, just because you are standing on the word of God. It may be a time of darkness and pain, but in suffering for doing what is right in the sight of God, you are walking in the path of Christ. It is not something that you need to shrink away from, but instead you are called to follow Christ's example, to go through it and overcome it.
It is what Christ did, as He obeyed the will of God His Father, to carry the punishment of wrongdoing that was not His, sinless as He was. Rather, it was for the sins of the whole world that He became sin, so that you and I may be made righteous in Him. He went about doing all that is good, and healing all those who were oppressed by the devil, but was put to death on the Cross. And the person, who was released instead of Him, was Barabbas, a traitor and a criminal! And, when this kind of irrational work of darkness comes your way, though of course in an incomparably lesser way, how you can overcome it victoriously is made clear in the words of the prophet Isaiah, that says, Who among you fears the Lord? Who obeys the voice of His Servant? Who walks in darkness and has no light? Let him trust in the name of the Lord, and rely upon His God. [Isaiah 50:10]
Overcoming the darkness – the way out :
When you fear the Lord, even in your darkness, you have a way out. Therefore, examine yourself in the Lord and in the power of the Spirit in you, and seek godly counsel. And, if your heart does not condemn you, just cling to the Lord, and rely on Him in your darkness, trusting in Him to deliver you. And, you will see darkness dwindle into nothing. It is the right approach. But in the very next verse, God through Isaiah describes, how it could all go terribly wrong, when you depend on your own strength and effort in order to enlighten your darkness. Look, all you who kindle a fire and encircle yourself with sparks. Walk in the light of your fire and in the sparks you have kindled ,This you shall have from My hand; you shall lie down in torment. [Isaiah 50:11] It is the truth that is echoed by Solomon, in the book of proverbs, instructing you not lean on your own understanding, or be wise in your own eyes, but to trust in the Lord with all your heart, and acknowledge Him in all your ways, so that He may direct your path. [Proverbs 3:5-7]
A. Trusting in the Lord :
It is to be still and know that He is Lord; to cease from your fleshly striving, but to depend completely on God, the wisdom and power from Him, and all that has already been accomplished for you by Christ on the Cross of Calvary. For, it is when all your impatient restlessness leaves from within you that change can come, to see Christ arise in your dark situation. And when God arises in your life, it will find your enemies being scattered, and coming to nothing as wax melts before the fire. The proof of your trust in the Lord is the rest within you. The writer to the Hebrews says it is the labor that you need to work towards to, in order to enter into it. [Hebrews 4:11] And, It happens as you cast all your cares and burdens upon Him, to be yoked with Him, learn from Him and in the process find a divine rest in your soul. It is the open invitation that comes to you from the meek and gentle Lord Jesus, even this day, however wearied and heavily burdened you may be in your time of darkness. His yoke is easy and His burden is light. And, nothing is too heavy or difficult for Him. Just come to Him, the Savior of the world, to see the darkness in your life depart and flee away. [Matthew 11:28–30] It is the power of the Cross!
B. Casting your care upon God:
It is by taking it to Him in prayer and leaving it there, trusting that God is well able to take care of it all, and also in a way that you never can. Even in human relationships, 'a problem shared is a problem halved', it has been said. For very often, just sharing your problem, with a person, who has a sympathetic ear, and has the patience to listen to your woes, without offering any diagnosis, or critical comment concerning it, makes a world of difference to you. And, you end up feeling much lighter within, though outwardly nothing has changed, and the problem is still a problem! Therefore, you can to an extent imagine, how different and higher and better it would be when you hand over all your troubling darkness to God!
And, prayer is simply talking to God, expressing all that is going on within you. But, it needs to be a mutual conversation, where you also hear from Him. For, it is the light that comes through what He speaks to you, what is always in line with His written word, which will be the solution, and also the empowering to work it out in your life. The prayer of Samuel, 'Speak Lord, your servant is listening', and the submission of Mary, 'Be it unto me Lord, according to Your word', are both worth emulating in your life, and will become easier with practice!The tendency to make a quick exit, or run away from your problem will always be there. But stand instead, to overcome it, for the Breaker goes ahead, the One who has dealt with it all, and in Him and through Him you will overwhelmingly conquer, for He is the God, who has called you out of darkness, into His marvelous Light. Hold on to Him therefore, and the word that He has spoken to you, till your season changes. For, His word will never change or pass away; it is only your circumstance that has to change to come in line with His promise to you. Doubts and questions may come; it is not wrong at all.
But, you can learn to deal with every doubtful thought that comes, to make it captive unto Christ and overcome it with the word of promise concerning it. The psalmist expresses his doubts at what must have been a low point in his life when things looked gloomy, dark and uncertain, in psalm seventy seven. His questions in essence are concerning the grace and mercy of God that he feels may have ceased towards him, His promises that may not come to pass, for the Lord does not remember him anymore or worse still is angry with him. [Psalm 77:7–9] But every doubt is invariably a lie of the enemy, the evil one, and can be overcome with the truth of the word of God concerning it, which can never fail; for mountains and hills may pass away, but His word will last forever, is the promise from the God who Himself is eternal and everlasting. It emphasizes the need to speak words of encouragement to yourself in the night seasons when in the darkness of pain or sorrow overwhelming doubts may arise to trouble and torment you. For, the psalmist recovers, as he encourages himself, to remember and proclaim God's wondrous deeds. I will remember the works of the Lord; Surely I will remember Your wonders of old. I will also meditate on all your work, and talk of your deeds. [Psalm 77:11,12] And he concludes by exalting and praising the greatness of the God who does wonders, and has displayed His strength to redeem His people. [verses 14,15]
C. Learning to praise in times of darkness :
A garment of praise is what God gives to you as His redeemed child, in order to replace the darkness of a spirit of heaviness. [Isaiah 61:3] Therefore, even if you do not feel like it, you would be wise to learn to praise in a time of darkness. For, praise brings a right perspective to your problem, as it shifts your focus to be upon God. And then, you will find that there are ten thousand reasons to praise Him, while to complain and lament there are only two! What the old and familiar song declares is so very true; for, when you count your blessings, it will surprise you to see what the Lord has done! The redeemed will return with joy and gladness, and the darkness of sorrow and sighing will flee away, is the promise of God. And, it is why you can enter into the presence of God with thanksgiving and praise.
In the darkness of betrayal :
The Lord gave thanks unto His Father, not on an ordinary day, but on the night that He was betrayed. It was a night that was dark, both in the natural and the spiritual. But now, in remembering it and partaking of the Holy Communion, it is by His Stripes that you are healed. He knew that He was going to be betrayed, and His disciples were not going to stand with Him, but still, Lord Jesus chose to give thanks, and went on to lay down His life for them, and us, on the Cross, in order to accomplish all that we will ever need in life. Following in the footsteps of the Lord, today you can through Him who strengthens you, give thanks, though you may be passing through the darkness of betrayal, of people not standing with you in support, in your time of painful need.
And, in it, as you start thanking and praising God for all that He has blessed you with, your situation will begin to change. Otherwise it will only lead you into a state of deeper despair. Give thanks therefore, envisioning how things are going to be, and not how they are right now. For, the darkness will soon leave, and light of God's goodness will come. Paul and Silas were in chains, and in the prison in the darkness of midnight. And, even as they praised God their circumstance changed dramatically, as the prison doors were opened, and their chains were loosed, and the shocked and stunned jailer was saved! [Acts 14:25] In everything give thanks, for it is the will of God in Christ Jesus concerning you. [1 Thessalonians 5:18]
The SUN of Righteousness :
And as you keep thanking and praising God, for all that He has already done in your life, holding Him in holy awe and reverence, you will indeed witness a glorious miracle – Christ will arise upon you, and every aspect of your life, as the Sun of Righteousness, with healing in His wings, dispelling all darkness and despair. [Malachi 4:2] He is the God who can do all things, and no plan of His can be thwarted. Begin to thank and praise Him for the encouragement you have received in your night season that is soon going to change. For, He is the God who changes times and seasons; and your times are in His Hands. And, there is nothing that He cannot do. Your days of mourning shall be ended therefore, as lingering problems are removed forever. May joy come in the morning, bringing glad tidings, heralding a new season, a season of healing and light, and may the brilliance of God be seen in you. For, Christ, the Sun of Righteousness, has risen upon you.
In the Name of Christ Jesus Amen.