REST IN FAITH & STAND FIRM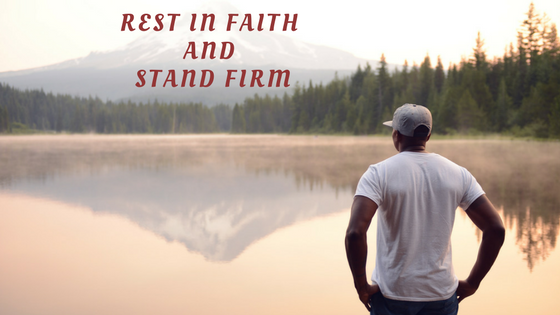 Studying the book of James, in the Bible, yields rich and timeless truth, wisdom from above that teaches you how you can stand firm against the devil, who with lies and deception tries to take control of you. The solution is very clearly set forth ; Submit to God, and resist the devil, and he will flee from you. [James 4:7] The key lies in submitting to God. And it need not be a burdensome task, for it is a position of rest.
Submitting is resting :
It is resting in the finished work of Calvary, where Christ has defeated the devil, so that you may reign in life through Him. And, it is operating in this rest that sees you resisting the devil. Refuting his lie is one aspect of it. For, you have been saved by grace, through faith ; but the world still lies under the sway of the evil one.
Resisting is refuting :
In the sixth chapter of his letter to the Ephesians, Paul describes your spiritual armor ; your completeness in Christ, which is the full armor that covers you from the crown of your head to the soles of your feet, to protect you from the attack of the enemy. And, he also reiterates the need to stand firm, in the strength of the Lord, in your position in Christ as the winner, the champion. For, since you are now in Christ, it is as one who has already won that you need to approach any problem that comes in your path. And, when you play as a winner, you end up as a winner too.
It is not over confidence, but it is the mindset that makes the difference. Your mind renewed, you will know that you are in a victorious position, for whatever problem you may be facing, has already been worked out on the Cross of Calvary. Resisting the enemy therefore, is what you do now, to refute the anxious and worrying thoughts which the devil may try to bring in you. They have to be categorically refused and refuted, in order to experience the blessing that God has for you.
The attitude of humble submission :
Humble yourselves under the mighty hand of God therefore, that He may lift you up in due time. [1 Peter 5:6] This is the beginning of the process that ultimately sees you resisting the devil, and refuting his lies to stand firm in Christ. Humbling yourself is submitting to God, acknowledging that in all things, and in all ways, He is greater, and can also do a much better job than you, when you leave it in His hands. And, it is in this context, that the apostle Peter, in the very next verse, bids you to cast your cares on God.
Casting all your care upon Him, for He cares for you. [1 Peter 5:7] It boils down to something simple, but as it invariably is with God's word, something profound. 'Casting' is what you do ; and 'caring' is what God does. Definitely therefore, choosing to do it, is a very advantageous exchange for you.
How do you cast your care on Him ?
It is by your confession, that you cast your care on God, to shift the burden on to the God who has the whole world in His hands ! The psalmist confesses his hope in God, in times of pain and hurt. It is how he casts his care on God, instead of being cast down himself !
Why are you cast down O my soul ? And why are you disquieted within me ?
Put your hope in God, for I shall yet praise Him, the help of my countenance and my God. [Psalms 43:5] And, in a more positive manner, he confesses these words, which should not lose their depth and power, because they are so familiar. Bless the Lord, O my soul, and forget not all His benefits. [Psalms 103:1] In life's happenings, anxiety and anxious thoughts come ; but how you cope with it, makes all the difference. And, God's word through the psalmist is illuminating guidance. When an anxious thought arises to trouble you, lay it on God, by your confession. Just pass it on to God. It is then no longer your problem, but His; and with Him there is no problem ! For the more it lingers in your mind, the more troubling it would become, assuming more significance than what it actually is.
Therefore, the moment it comes, pass it on to God. Visualizing, in your mind's eye, how people used to lay concrete on the roof of a building, before it all became mechanized, would help you. For, during that process, the moment the bowl of concrete comes in a worker's hand, he has to immediately pass it on the next person. It is how the work is accomplished, swiftly and smoothly. And, it is what you need to do to your problem too ; pass it on to Him ! For, otherwise the devil will try to get a foothold, to enter and magnify the problem. But, God on the other hand has carried you even in your mother's womb. And, He has promised in His Word, to carry you even when you are old and gray haired ! Your problem is definitely not something that He cannot deal with; with Him it is no longer a problem.
Stand firm on the truth therefore to cast your care on Him, and receive from Him in exchange, a promise that will see you overcome victoriously, the problem that initially loomed so menacingly in your life. Sometimes, the moment you pass it on to Him, the same problem can come in a different package. But, in whatever form it comes to you, your response needs to be the same. It is to hand it over to the Lord. For, a divine exchange has taken place on the Cross. It is where your sin has been replaced by His righteousness, your sickness by His health, your poverty by His riches, and your problem by His promise. And, not standing firm on the truth and acting upon it, will open the door to the deception of the devil, your adversary.
Your adversary who is prowling around :
Be clear minded and alert ; for your opponent, the devil, is prowling around like a roaring lion, seeking whom he may devour. [1 Peter 5:8] And the one who is proud, or the person who is always filled with worry and anxiety, becomes easy prey for the enemy. 'Do not worry' is a command of the Lord, as much as 'do not commit adultery' is. Jesus prohibits worry, for it magnifies the problem in your thoughts. It is why, to be clear minded and alert, is the wisdom from above. And, it comes to you as the word of God enlightens you. The commandments of God are pure, enlightening the eyes. [Psalms 19:8] And, Lord Jesus, the Eternal Word is described as : The true Light, who coming into the world enlightens any man. [John 1:9]
Eyes enlightened :
The eyes of your heart need to be enlightened by the word of God through the Spirit's revelation. For, otherwise the devil will take advantage of your mind that is confused, to draw you away from God's plan for your life .It is always better therefore, not to do anything, when you do not know what to do in a particular crisis. For, invariably people end up doing something that they later on regret, for they felt compelled to do something or the other, even though they did not know what to do in that situation.
But, the path that King Jehoshaphat took when surrounded by enemies, is the model that you and I need to follow. Instead of focusing on his clear and present danger, he chose to shift his focus, and look up, praying , 'Our God, will you not judge them ? For, we have no power against this great multitude that is coming against us, nor do we know what to do, but our eyes are upon you'. [2 Chronicles 20:12]And then he received the promise of victory and salvation from the Lord, who gave His word that it was going to be His battle. All Jehoshaphat was asked to do was to hold his position and stand firm, in order to see the victory. It gave him clarity of mind and strength to face the enemy, removing his doubts and fear.
For, when God gives you enlightened understanding you will receive wisdom and strength. You will know what to do, and also have the power to do it. He will give you a clear mind, removing all confusion that comes by having a divided or multiple opinions. For, it is when you are confused that the evil one who is prowling around, scents an opportunity to enter, only to steal, kill or destroy. And, it also reveals the importance of David's prayer, what needs to be the longing in your heart and mine.
One thing :
One thing have I asked of the Lord, and that will I seek after ; that I may dwell in the house of the Lord all the days of my life ; to gaze upon the beauty of the Lord and inquire in His temple. [Psalms 27:4] And this is Paul's declaration of his life's purpose, the one thing that he does : And this one thing I do, forgetting those things which are behind, and reaching forward to those things which are ahead, I press toward the goal for the prize of the upward call of God in Christ Jesus. [Philippians 3:13,14] And, the Lord Himself, lovingly chides Martha saying, Martha, Martha, you are worried and upset about many things. But one thing is needed, and Mary has chosen the good part, what will not be taken away from her. [Luke 10:41, 42]
When you focus on God, His written word, as the one thing, there can be no confusion. Confusion comes only when you have to choose between various opinions ; and confusion is always the strategy of the enemy. 'If you cannot convince them, confuse them', is what the people of the world resort to at times to get their own way, maybe a marketing tactic even ! But God is not in the business of confusing people ! Therefore, when God's word is the only choice, the only authority in your life, and everything is determined by what the word of God says to you, there can be no confusion at all. So, stick with the scriptures. And, even if you have any confusion or doubt, it will all be removed.
For, God's word will give you a sound mind ; one that is calm, collected, well balanced, and free from fear. And, a mind that is sound and healthy will see you overcoming the devil. Stand firm therefore on the truth of God's word. Let it always be the final authority in your life, with no counter opinion to it. You have a loving God, who wants the very best for you and never gives up on His plans for you, though challenges may come in the path of its' accomplishment. They are plans of good and not of evil, plans to give you a future and a hope. His dealings with Moses and Gideon are a wondrous display of it.
The God of clarity and patience :
For God is not the author of confusion, but of peace, as in all the churches of the saints. [1 Corinthians 14:33] He is a not a God of confusion, but of order and peace. And, He is lovingly patient as He deals with you and waits for you to come out of your confusion and your complexities,to walk courageously in your divine calling. When you are a parent, your child may at times come to you feeling confused, and hence also very fearful. But when you patiently explain things, to deal with the confusion, you will see it all evaporate, and the little one will become very bright and courageous ! And, you have a good Father, who has given His Beloved Son, so that you can call Him Abba, Father !
Some people in their lives receive clarity by studying the word of God. Some, on the other hand learn clarity by experiencing it. Whatever may be the way, your loving Father will persist though, till all confusion in your situation is removed, and clarity, courage and confidence sets in. Moses, had so many questions and doubts about his own adequacy, regarding what God was asking him to do. But, the Lord patiently dealt with each and every one of his questions and doubts, till the 'I' in Moses rested in the name of the Great I AM', to be equipped for the mighty task of delivering God's people. [Exodus chapter 3]
In the case of Gideon, he certainly did not begin as the mighty man of valor that the Angel of God called him to be! He was fearful, and questioning why bad things were happening, when they were God's chosen people. It is something, you and I can also identify with at times, when we go through inexplicable difficulties ! But, God dealt with every one of his doubts, satisfied him with the signs that he asked for, to drive away all misunderstanding .It lifted Gideon up to a position of strength and courage, that he went into battle with his men proclaiming, 'The sword of the Lord and of Gideon'. He knew with absolute certainty that it was the Lord's hand stretched out to fight against the enemies. He also knew that with God there is no defeat ! [Judges chapter 6,7] Indeed, if God is for you, who can be against you ? !
'The battle is not yours, but God's ; you will not need to fight in this battle ; stand still and see the salvation of the Lord who is with you' was the promise of God, in which Jehoshaphat rested without any confusion, to experience a magnificent victory, which was the manifestation of the promise. [2 Chronicles 20:15-30] In your life too, whatever may be the problem, when you have cast it on Him, it is His problem. And, with God, there is no problem ! The devil will try to confuse you, to put you in a quandary, pondering your options, in order to find a solution using your own self efforts that will ultimately fail. But with clarity, and by faith, you can find your rest. A rest, that leads you to confess, 'God has accomplished all things concerning me ; He is my Father, who cares for me'.
The doubts that may come, as time passes by, can be driven away by going back again and again to His word of promise to you. The promise of God never changes. 'The battle is Mine' was His promise to King Jehoshaphat thousands of years ago. But when it comes to you, has the same power and validity even today, in the battle that you are going through. To the disciples on the road to Emmaus, it was all gloom and doom, till the Risen Lord, whom they did not recognize initially, walked with them, explaining the scriptures to them. It was like a fire burning in their hearts, they later recollected. And, as He broke bread, they recognized the Savior. Later with enlightened understanding, and empowered by the anointing of the Spirit, it was the fearful and discouraged disciples, who with transformed lives went in the authority of the Lord, to the ends of the earth, turning the world upside down with the gospel of Jesus Christ.
Being alert :
To be clear minded and alert against the devil prowling around like a roaring lion, is the counsel of God's word. [1 Peter 5:8] And, when you are clear minded with enlightened understanding you will naturally be alert. You will be vigilant, and will be able to overcome the problem that comes in your path. The Lord cast out demons, when they came in His way ; He did not go searching for them. You can indeed tread upon the young lion and the serpent, when they come in your path ; but you need not go searching in the jungle for them ! Just walk in the Lord, enjoying His sweet presence.
Being God conscious and not demon conscious is of great importance. The evangelist, Reinhard Bonke, has testified how in one of his revival meetings, as he began his message with one proclamation of Hallelujah, a person practicing witch craft, brought specially to cast an evil spell on him, collapsed, and was carried out ! The devil is a defeated foe. He is like a roaring lion, and not a real lion. But you and I on the other hand are born to the real Lion, the Lion of Judah, who reigns forever. Be alert therefore, not to be fooled and deluded by listening to wrong voices, only to end up getting confused.
The entrance of light :
The word of God is the light that gives true understanding. And, seeing your problem in the light of God's word, you will see it for what it actually is. You will also know, and stand firm in the truth, that however big the problem may appear to be from a worldly perspective, to God it is an easy thing to solve it. You can indeed be of good cheer; for He has overcome the world. You can resist the devil therefore, standing firm in your faith.
Resisting – in faith :
How does this become possible ?
It is by sticking to His word, to the promise that God has given you concerning your situation, and also working in the authority that He has given you. 'Behold, I give you the authority to trample on serpents and scorpions, and over all the power of the enemy. Nothing shall by any means hurt you'. [Luke 10:19] The Lord has given you authority over the devil ; one that you exercise in faith, as you confess it over the attack of the evil one when you encounter it in your life. And indeed, nothing shall harm you.
How does faith operate ?
Faith works in you, step by step, in a very logical process. It comes in you by hearing. And it operates in you, through believing, understanding, then confessing it in your situation, to ultimately be reflected in a corresponding conduct. Also, faith is always in the present continuous ; it is an ongoing process. Whether you believe now, is the crux of the matter. For, what you believed in years ago, or even days ago, does not come into play at all. It is your present position that determines your strength in resisting the enemy. It can be compared to the power of attorney certificate that is valid only for a certain period of time. A year after the expiry of its' validity period, you cannot exercise any authority using it. It is just a powerless piece of paper.
Hearing continually from God :
Christian life is a walk with God, taking His yoke, hearing from Him continually, and learning from Him, to experience rest in your soul. God never changes His word. But He amplifies His word, and elaborates it, as you walk with Him in faith continually. Abraham heard from God continually, to see his promise come to pass. He heard from God to embark on what must have been a very painful journey. He heard from God at the foot of the mountain. And, he heard from God even as Isaac was on the altar of sacrifice, to offer up the ram instead. The modalities of God's working were revealed to Abraham in a continual process, one step after another. But the promise to Abraham, of making him a great nation, stood unchanged.
To the Israelites in the wilderness, God spoke about the land of promise, describing it as initially as the land flowing with milk and honey. But as He took them closer, He added more and more details, very specific ones; that it was a land of hills and valleys, well – watered with rains in season, that there would be gold and other metals in it. God elaborated His promise, continually, to give a progressively clearer picture of the land they were entering in. To the promise that He has given you, God will add more and more information, to guide you and lead you, as you walk with him continually in faith, to give you clarity. And then more comfort, confidence and courage will come in you, enabling you to stand firm, trusting and resting in Him.
God never minimizes your problem, or your pain and hurt. But, he makes you bigger than the problem ; and you will be triumphant over your problem. It is what happened in the life of David. Day after day, the people listened to Goliath's taunts ; and he only seemed to be growing bigger and bigger in their minds. But then came the young shepherd boy, who listened to the voice of the giant just once, but had listened to the voice of the Lord, his Shepherd, many times, and even at that time was hearing from Him. And therefore, going against the giant in the Name of the Lord, David defeated Goliath.
Sometimes, the very first time that you hear a promise from God, concerning your life's happenings, the likelihood of it coming to pass may seem impossible, and highly unlikely. But as you keep on hearing from God again and again, day by day, moment by moment, you will come to a position, where you believe that it would be impossible for God, not to do it ! The Word does not change ; but the Word changes you. And, the more understanding you gain of the truth, the more easily you will be able to stand firm in life, and also resist and refute the enemy. He is the enemy who stands defeated on the Cross.
The implication of the Cross :
The centrality of the Christian faith is the Cross ; what has been accomplished through the one perfect sacrifice of the Lord. And, to the one who believes in it, the powerful hand of God is revealed. They are interlinked. The words of the prophet make it abundantly clear ; Who has believed our report ? And to whom has the arm of the Lord been revealed ? [Isaiah 53:1] And, post crucifixion, Paul reiterates what it is in the lives of people .But we preach Christ crucified, to the Jews a stumbling block, and to the Greeks foolishness; but to those who are called, both Jews and Greeks, Christ, the wisdom of God and the power of God. [1 Corinthians 1:23, 24] As the Savior has said, it is when you believe that you will see the glory of God ; glory that is the revelation of His nature, and manifestation of His power in your life.
And, how do you believe ?
It is by hearing and understanding God's word ; which is why Paul is able to declare, that he is fully persuaded, thoroughly convinced, to know in whom he has believed and put his trust. And, he experienced the manifestation of God's power many times in his life. In the midst of a perilous journey in the sea, it was by the glorious power of God that he, and along with him two hundred and seventy six others were saved from death, to land in the island of Malta. And, it was there that he was able to miraculously shake off a snake that had latched on to his hand into the fire, to escape unhurt. Paul believed and knew that the God who saved him in the shipwreck would also save him from the dangerous snake. [Acts chapter 27]
God is in control :
He is in perfect control ; and he will indeed save you completely, from every danger that lurks around, all through your life. It all happens, as you hear from Him continually to believe, understand, confess and act accordingly. 'The enemies are more than the hairs on my head, but you are my source and strength'. [Psalms 69:4,35,36]
And what is his conduct that accompanies his confession of faith ?
'I lay down and slept ; I awoke for the Lord sustained me'. [Psalms 3:5] This is your position, as you rest in faith. The devil may try to put anxious thoughts, try to give you sleepless nights. But as you resist him, standing firm in your faith, you will see the devil flee from you. The Lord is your source and strength as He leads you in a triumphal procession. He is your security and protection.
His Name is a mighty tower into which you can run and be safe, for you are righteous in Christ. Greater is He who is in you, than he that is in the world. There are more angels on your side, than the demons that are with the enemy. God is always with you. He belongs to you, and you belong to Him. He is your shield, the lifter of your head. Give thanks unto Him, for He fights your battles, and His peace guards you.
In the Name of Christ Jesus Amen.