Understanding that I May Live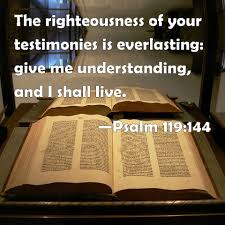 Your righteousness is righteous forever and your law is true. Trouble and any wish have found me out but your commandments are my delight. Your testimonies are righteous forever; Give me understanding that I may live. [Psalm 119:142-144]
When you truly believe in a God who is righteous forever, but find yourself going through trouble and anguish, only a Divine Understanding can lead you to the right conclusion that you will not die but live to proclaim the works He has done.
When you are under stress and pressure, become theological, not philosophical !
A right understanding when things seem to go wrong comes when you discern and comprehend what God has for you:
*Desire
*Direction
*Discipline
*Destiny
Let's look at the 4D's and how that translates in your life.
1) God's Desire for you
No matter what is happening in your life, know that He loves you. He loved us when we were yet sinners, and now that we are His children nothing can separate us from His love.
2) God's Direction
When God delivered the Israelites from the bondages of Egypt, He did not lead them to the Promised Land in the shortest possible way. God took them in a roundabout path, provided for them, was present with them, and performed miracles (opened up the Red Sea before them). He did it for a reason. He did not want them to go back to Egypt. Even in your circumstances and what you're going through right now, He will lead you in a path uniquely designed for you, causing you to overcome your problem, and not being overpowered by it. He understands your personality completely, and He is in complete control of your situation.
3) God's Discipline
With God, chastisement is never a punishment. His discipline is always a training process where He loves you and teaches you. "Remember how the Lord your God led you all the way in the wilderness these forty years, to humble and test you in order to know what was in your heart, whether or not you would keep his commands". [Deuteronomy 8:2]
The Lord trains you because you are His child, and for no other reason. Painful it may be, but afterwards as the writer of Hebrews remarks, it yields the peaceful fruit of righteousness.
4) God's Destiny for you
"When Jesus looked up and saw a great crowd coming toward him, he said to Philip, "Where shall we buy bread for these people to eat?" He asked this only to test him, for he already had in mind what he was going to do". [John 6:5,6]
While Philip was attempting to measure the cost for a little bread, the Lord knew that He was going to provide in miraculous abundance. He is the same God who has already prepared a glorious destiny for you. Just like the Psalmist, pray for godly understanding, and you will live and abound, overcoming trouble and anguish, rejoicing in the God who is righteous forever.