Weeping to Worship –for, He is praying for you !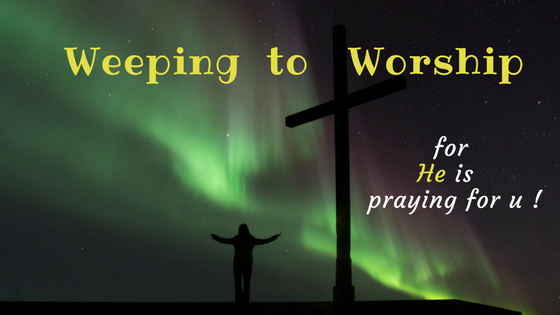 Grace takes you from where you are in your life, to where God wants you to be; it is to a place of life, to see good days and experience His peace. There is also a path, a procedure to it, as the apostle Peter describes in his epistle with clarity, He who would love life, and see good days, let him keep his tongue from evil and his lips from speaking deceit. Let him turn away from evil and do good; let him seek peace and pursue it. [1 Peter 3:10,11]
Peace is the wholeness that God desires you to have in every aspect of your life. It does not happen automatically though; which is why God's word counsels you to pursue it. And the writer to the Hebrews goes on to state the high cost of not doing it. Pursue peace with all people, and holiness without which no one will see the Lord; looking carefully lest anyone fall short of the grace of God; lest any root of bitterness springing up cause trouble, and by this many become defiled. [Hebrews 12:14,15] Falling short of the grace of God happens when you depend on your own effort instead of depending on God in all that you need to accomplish in life. And, it will invariably end in defeat, despair and ultimately bitterness in your soul.
It is when even life's sweet experiences, leave a bad taste in your mouth. But today, grace is freely available to you. And, in order to experience the goodness that God has for you in life, bitterness has to be dealt with and uprooted. There are many ways in which bitterness can creep in; it could be the negative circumstances in your work place, or circumstances of lack, where what needs to be in your life is not there, or is not there in the manner that it needs to be. Another very different reason, nevertheless, one that can happen in your life and mine, comes to light even as you study the life of Peter, the Lord's disciple; and what made him break down to weep bitterly.
Tears of bitterness :
And Peter remembered the word of Jesus who had said to him, 'before the rooster crows, you will deny Me three times'. And Peter went out and wept bitterly. [Mathew 26:75] And it has to be remembered that, Peter, when this happened, was not an inexperienced young man, who was just learning the ropes. He was a very senior person who had work experience as a fisherman; moreover he had ministry experience at the highest level, having walked with the Lord as one of His chosen disciples. He had walked on water, and was there when the five thousand were fed. He was there on the mount of transfiguration, witnessing the glory of the Lord. He had seen demons trembling and fleeing from the Lord. And, above all, his revelation, that Jesus was the Messiah, the Son of the Living God, was commended by the Lord Himself, as one that was from the Father in heaven.
Unfathomable and immensely surprising it is therefore, that it was this man, who broke down to cry and cry ! But it serves to underscore a very powerful truth that is very relevant in the life of every child of God that , He who is standing must take care lest he falls ! It is a sobering warning, which may not be put up in the walls of a Christian home ! But, Peter's experience is a very valuable lesson that when learnt and applied, can uproot all bitterness, and keep you from it in your future. And, the incident can be analyzed and studied in three aspects reason, revelation and ultimately restoration.
1. The reason – 'I will never leave you' :
The 'I', the 'self' was so dominant in Peter; and it led to his tragic downfall. And Peter said to Him, 'Even if I have to die with you, I will not deny you'. [Mathew 26:35] To a leader in the world, this may seem to be the word of an ideal follower; but Jesus was a different leader! Peter, also had these words to say to the Lord, 'Even if all fall away on account of you, I never will'. [Mathew 26:33] Digger deeper into Peter's declarations, you will be able to see the underlying truth, that the foundation of his confidence was based entirely in his own human 'self'. It had nothing to do with the Lord! And it was the seed that led to his denial and bitter tears. The faithful God is the one person who can say to you that He will never leave you. But, Peter based his statement on his own strength and capability.
Later on though, having learnt from his failure and restoration, it is the same Peter who writes in his epistle that, the one who desires to see good days, must speak what is good, or in other words, what is aligned with God's word, not contrary to it ! The incident on the whole, teaches you and I, the need to have a honest evaluation of one's own self, and also reveals the dynamics involved in it. Apostle Paul addresses it in his letter to the Romans, to give a clear picture that can remove any cobweb of darkened understanding in your mind that the devil can use as a foothold to enter in.
A honest judgment :
For I say through the grace given to me, to everyone who is among you, not to think of yourself more highly than you ought to think, but to think soberly, as God has dealt to each one a measure of faith. [Romans 12:3] Not to have an exaggerated opinion of oneself, but to have one that is honest, is the counsel of God. The psalmist declares how he does not involve himself with things that do not concern him, or are too high for him. The need to have a well balanced opinion, without over estimating or underestimating oneself is very vital.
It is like travelling on an Indian road, where on either side of it, there is a ditch, into which you can slip and fall, if you go wrong in your estimation ! And, God's grace has been made available to you, empowering you to have a sober and right judgment about yourself, without any confusion. It is then that you can successfully and boldly overcome the wily attacks of the enemy, who prowls around like a roaring lion, seeking whom he may devour.
Focusing on 'I' – is the problem :
In both, inferiority or a superiority complex, the focus is on the 'I', the 'self' of a person. But the right approach to successfully handle and overcome any challenging situation would be to focus upon God, from whom all help comes. And flowing from it, 'I no longer live, but Christ lives in me', is the position of rest and trust, which needs to be in you. For, the one who thinks more highly of himself than he ought, deceives himself', Paul elaborates, to add something very significant. [Galatians 6:3] It is because, when you begin to think that you are too important, you are not that important at all! And, God will deal with such a person, even if it was the prophet Elijah, to put him in his place.
Serving God – a privilege :
'There are seven thousand others who have not bowed their knee to Baal, the Lord gently and firmly pointed out to Elijah, who was at that point wallowing in self pity, considering himself to be the only one who was serving God, and hence was suffering. [1 Kings 19:14 -18] God can get his task accomplished by any one. The fact that he has chosen you and I to be a part of His kingdom, to carry out His Kingdom purposes, is the greatest privilege. And it is all by His grace; pure grace and nothing else. There are millions of very sincere people out there in our nation, trying to reach and find the true God by their self effort, and in the process misguidedly bruising and inflicting physical pain upon themselves. But, God sent His Son to save the world, and counted you and I righteous by His Blood which was shed on the Cross of Calvary. And, the privilege of calling the God of heaven and earth, 'Abba Father' is now yours and mine.
Salvation is the greatest gift that you can ever receive; and it comes to you from God, all by His amazing grace. And being called to do the good works that He has already prepared for you is a privilege given to you; one that you need to acknowledge with thankful gratitude. For, God's purposes will never be thwarted; and to be in it is a privilege of the highest order !Jonah found it very difficult to swallow ! He had the privilege of being called by God, but chose to run away from it. But, the truth is, when you run away from God, you only end up running into God, who is omnipotent and omnipresent. It is in Him that you find your refuge and protection.
God did not give up on Jonah or His good purpose for the people of Nineveh. He pursued him to the depths of the sea, kept him safe in the belly of the whale, and gave him once again the privilege of preaching to the people of Nineveh. This magnificent grace of God went unappreciated by Jonah though, who resented the people's repentance, and held on to his anger! But, you and I can learn the lesson !
The danger of being led by the 'I' :
When the 'self', the 'I', in a person is dominant, it can lead him to destruction, and even unto death. Studying the life of Ahithopel, a trusted counselor of David to begin with, to be sidetracked in his loyalty to veer towards Absalom, the son of David, reveals where giving importance to the 'I' can lead you. On learning that Ahithopel was one of the conspirators against him, David prayed that his counsel should be turned into foolishness, the plans against him be wiped out. [2 Samuel 15:31] David saw the answer to his prayer, while in Ahithopel though, the 'I' was so dominant, that on seeing his counsel being disregarded, his ego was so bruised that he went and hanged himself ! [2 Samuel 17:23] It is the ultimate danger of the 'I' taking centre stage. Sin, is basically being 'self oriented'. But, from being sin centered, when a person's life moves to being God centered by grace through faith, it will take him from a position of weeping, to worship the Lord who has done it all for him.
Trusting in your own self – the grim picture :
Thus says the Lord, 'Cursed is the man who trusts in man, and who makes flesh his strength, whose heart departs from the Lord'. For he shall be like a shrub planted in the desert, and shall not see when good comes, but shall inhabit the parched places in the wilderness, in a salt land which is not inhabited. [Jeremiah 17:5,6] The Lord Himself paints this dry and fruitless picture, of the one who in the world's perspective may be applauded as the self made man , the one who depends on himself and his own strength to accomplish things in life.
But does it mean that you should not trust anyone as you live in the world ?
Some may say that a man's two best friends are his own two hands, or that no one can help you like your own self. It may be the creed by which they live their lives. And, it could be the result of bad experiences that they have been through. But the wisdom of God will teach you that you need to trust people with discernment, but your over riding primary trust must be in God alone. It is because you trust God, that you trust people. You may be building your house now, for which financial transactions are necessary; and to this end, you hand over money to the builder, trusting that God will keep him faithful in his work, and also in the wise use of your finances. It is similar to locking your house as you venture out. You trust in the Lord Almighty, that the person unlocking it would be you, and not someone else !
Trusting in self – to move away from God :
Moving away from God, as a consequence of trusting one's own self, is what the Bible warns against. It is the same when it comes to your attitude towards money, as Paul writes in his epistle to Timothy. It is a wandering away from the faith, because your trust in God has been replaced by a trust in money that he prohibits in your life, for your own good. For the love of money is a root of all kinds of evil, for which some have strayed from the faith in their greediness, and pierced themselves through with many sorrows. [1 Timothy 6:10] What overcomes the world is your faith; therefore, wandering away from it will find you being subdued by your circumstances, instead of overcoming them by the grace of God.
Thus, in whom and in what you put your trust, determines whether you stumble and fall, or stand upright in your situation. The psalmist sums it all up thus, as he confesses, Some trust in chariots and some in horses; but we will remember the Name of the Lord our God. They have bowed down and fallen; but we have risen and stand upright. [Psalms 20:7,8] Indeed, when you put your trust in the God of your salvation, you will stand firm and stand upright, without being bowed down by the enemy. Thus, it all builds up to the one core truth that can pull you down, which is not the presence of your 'self', but the absence of God in the challenge that lies ahead of you. Your ' self ' needs to be submitted to the divine will of God, the Father.
'Not my will, but Yours be done' :
It is this truth, when you believe in your heart to confess it with your mouth, which will see victory in your circumstance. 'Abba Father, all things are possible for you; take this cup away from me; nevertheless, not what I will, but what You will'. [Mark 14:36] It was the Savior's agonizing plea; and even as He submitted to the will of His Father, the Cross did not go away; but He triumphed on the Cross. God can save you from the problem, or save you through the problem! Either way, you will be the one who overcomes ! It is when you depend upon your own fleshly strength that you will end up being directed by the devil. Self promotion always lands you in the hand of the devil. In your life therefore, at all times, and in all things, it is God whom you need. And, He is always available, and the abundance of His grace will always, and in all things see you through.
2. Revelation – In Christ & through Christ :
For, we are the circumcision, who worship God in the Spirit, rejoice in Christ, and have no confidence in the flesh. [Philippians 3:3] Paul establishes here, your position and mine as a true Christian. In the new covenant, it is all 'in Christ' and 'through Christ' – your health, your finances, your work, your relationships, whatever aspect of your life it may be. Therefore, you are in a very advantageous position, for whatever is not possible in your strength, becomes possible in His strength. What needs to happen in you is a switching of focus, of your perspective.
Switch your focus :
Whatever may be the challenge that life throws at you, it can be overcome, in Christ, and through Christ. Peter, trusting in his own strength, says to the Lord Himself, the I AM, that he will always stand with Him, and will never fall away. How preposterous his claim seems to be ! But, the Lord in compassion and love, even before Peter failed, prophesied his restoration, when his weeping would turn to worship! And, it would be all because He has prayed for him ! He is the unchanging Lord, who does the same for you and I today.
The High Priestly intercession of Christ :
And the Lord said, Simon, Simon. Indeed satan has asked for you that he may sift you as wheat. But, I have prayed for you, that your faith should not fail. And when you have returned to me, strengthen your brethren'. [Luke 22:32] This is what turned Peter's weeping into worship. When the devil is the problem, no self help technique will work. But, the Lord has trampled his head on the Cross, and He has given you authority, to overcome all the power of the enemy, and nothing will harm you. [Luke 10:18,19] And, Christ Himself is seated at His Father's right hand right now, interceding for you ! People may pray for you sincerely when you are in the midst of a problem, there is no underestimating it; as children of God, in the family of God, you and I are called to pray for each other.
But then, when you are sick or discouraged, the people of the world can also say to you, that with time the problem will go away. The truth is though, God is the ultimate Healer, and sometimes it takes time for His healing to be manifested in you. With Peter, people observing his failure, may have remarked that he would soon just shake the dust off his clothes to get up, and in time get back to his walk with the Lord. But in reality, what made Peter move from weeping to worship, and stand up on the day of Pentecost, to preach the gospel of Christ, that saw three thousand saved, was the intercession of Christ, who had prophesied it, even before his failure. Such is the Lord whom you worship today, who is interceding for you even at this present moment, to keep you from falling, to make you stand firm !
The nature of the Lord's intercession :
His prayer and His intercession for you now, is this; My little children, these things I write to you, so that you may not sin. And if anyone sins, we have an Advocate with the Father. Jesus Christ the righteous. And He Himself is the propitiation for our sins, and not for our own sins, but the sins of the whole world. [1 John 2:1,2] You have a righteous and just Advocate, who cannot do wrong. And, for your sins, that you may even now commit, maybe not willfully, but in weakness or ignorance of the truth, He is the atoning sacrifice, who has dealt with sin, once and for all. By one sacrifice, He has perfected forever, those who are being sanctified. [Hebrews 10:14] He has not just forgiven your sins, but He has also dealt with the problem of sin in you, once and for all.
For, on the Cross, He who knew no sin became sin, so that you and I can be the righteousness of God in Him. Sin's vicious cycle, in which you are forgiven, only to sin again has been broken. And, Christ has not only dealt with the consequence of sin, but also the cause. For, sin is basically the 'I', enthroned in you; it is a selfish self centeredness. To this the solution lies in shifting your focus on to Christ, to receive from Him, as you view your problem in and through Christ. He has done a finished work on the Cross, having overcome all that needs to be overcome in this world, to be seated now in heaven, alive forevermore. It is the other very powerful aspect of His sacrifice.
Christ intercedes forever :
Therefore, He is also able to save to the uttermost those who come to God through Him, since He always lives to make intercession for them. [Hebrews 7:25] Christ lives forever, interceding continually forever, to keep you standing. The hand that raised you up, pulled you up when you were fallen to make you stand is still holding you to keep you standing. You are in His strong grip forever. His grip is stronger and never relaxes ! Even now, He is interceding on your behalf at the Father's right hand that He may intervene in your situation. And when He intervenes, even the impossible becomes possible. It is the majestic buildup to an overcoming victory that Paul describes in his letter to the Romans ; Moreover whom He predestined, these He also called; whom He called, these He also justified, and whom He justified, He also glorified. [Romans 8:30]
God has chosen you, justified and glorified you; and when He is in the picture even the impossible becomes possible, for He is a great and mighty God. He rescues you from the problem, to keep you from the problem. And, this is how He changes your situation ; He who did not spare His own Son, but delivered Him up for us all, how shall He also not with Him, freely give us all things ?. [Romans 8:32] He has given heavens' best for you ! And now, together with Christ, God freely gives you all things! It is how He glorifies you. Glorified, is nothing but His nature and His power, revealed in and through you.
Therefore, no condemnation ! :
There is therefore now no condemnation for those who are in Christ Jesus, who do not walk according to the flesh, but according to the Spirit. [Romans 8:1] This is your glorious position now in Christ Jesus, when no one can condemn or reckon you to be useless. Christ died for you; more importantly He rose again, to be seated on the heavenly throne, interceding for you. Paul, step by step, builds on the truth to take you to the majestic crescendo, of how you will ultimately overwhelmingly conquer. It is the wondrous truth of restoration ! Yet in all these things we are more than conquerors through Him who loved us. [Romans 8:37]
3. Restoration – Peter, stood up with the eleven ! :
On the day of Pentecost, it was the same Peter, who had wept bitter tears of failure and repentance, who now stood up to say with a raised voice, But Peter, standing up with the eleven, raised his voice and said to them, 'Men of Judea and all who dwell in Jerusalem, let this be known to you and heed my words'. [Acts 2:14] Peter stood up with the eleven ! Even in your life, the Lord' prayer of intercession is not only going to make you stand; it will make a hundred others stand with you. The Lord will make you stand up, stand firm, and keep you from falling, that He may present you faultless unto God, His Father.
It is in Christ, and through Christ, that your weeping will turn to worship. He is your Rock in times of trouble; His love is your anchor all through the storms of life. Give thanks unto the Father for all that He has done in your life, in and through Christ; for His blessing upon you that has seen your weeping transformed into worship ; For you have a wonderful Savior, alive forevermore; who even now says to you in love . 'I have prayed for you, my precious one' !
In the Name of Christ Jesus Amen.